Archiving and Publishing Student Dissertations
UAS Neubrandenburg's Digital Library
Information about Archiving and Publishing Student Dissertations
UAS Neubrandenburg's Digital Library was developed together with the University Library Rostock as part of the state project 'Digitale Bibliothek MV' (Digital Library MV). It gives students at the University the chance to publish successfully completed dissertations that had been produced electronically via the publication server, at no extra cost. The dissertations that have been published are also listed in our library catalogue.
By providing student dissertations in the Digibib, UAS Neubrandenburg is supporting the concept of Open Access, according to which there should be free access to academic information.
Steps for Archiving and Publishing in the Digibib:
The following information will help you to archive your dissertation in accordance with the examination regulations and, if you wish, also to publish it.
2. Save your Dissertation as a PDF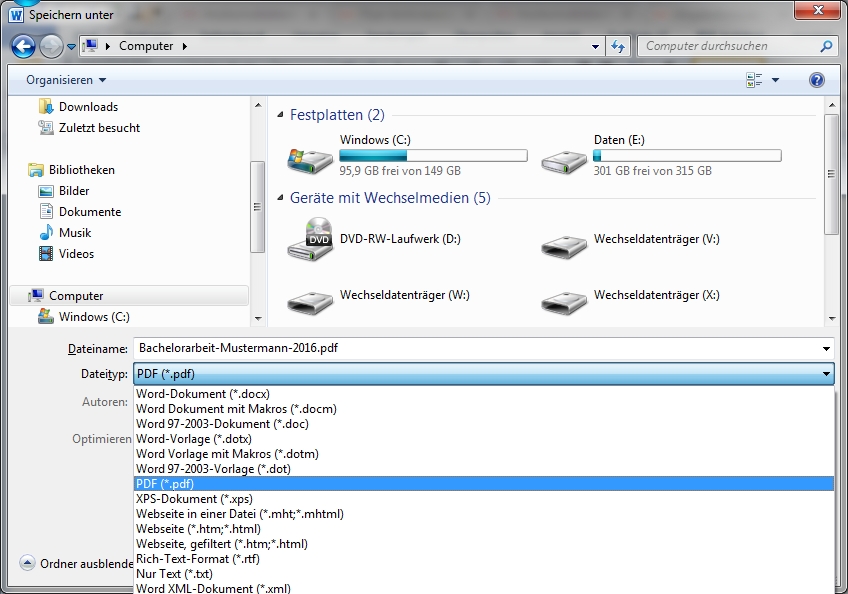 File menu > Save as (or F12)
Select folder
The file should be named according to these rules:
<Type of Dissertation> - <Surname> - <Year>
e.g. Bachelor'sDissertation-Bloggs-2018.pdf and, if applicable, Appendix-Bloggs-2018.zip
Select file type 'PDF (*pdf)'
Only necessary for MS Word 2010 and newer
Create PDF/A file (long-term archiving): to do so, after selecting the file type 'PDF (*pdf)', click on the dialogue box 'options' and choose the format 'ISO 19005-1 compliant (PDF/A)'.
Save
Please convert all appendices that cannot be integrated into the dissertation (e.g. drawings and plans) into PDFs and submit them as an archive file, in ZIP format (max. 200 MB).